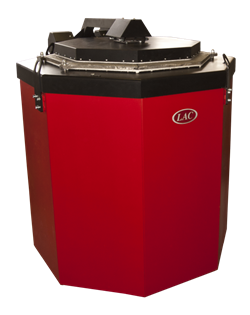 During the last 12 months we have successfully supplied a number of highly energy efficient PTE 2ND generation aluminium holding/melting furnaces into the UK manufactured by our partner LAC.
The PTE Mk.II furnace is designed mostly for holding with limited melting output and is recommended for foundries with central pre-melting furnaces and secured transport of the melt.
These furnaces are designed to maximise energy savings and are even suitable for foundries with limited installation space, as the PTE Mk.II's high-tech insulating materials and new heating element mounting system allow for the smallest possible external furnace dimensions. The coils are placed in refractory castable shape grooves which prevent them from overheating. This placement also protects against splashing aluminum in case of crucible breakage. The low power consumption of the PTE Mk.II is reduced to the minimum necessary which together with the furnace's new insulation system, makes the PTE Mk.II one of the most energy efficient electric aluminium holding furnaces on the market.
Standard design of furnace includes:
Ht40 T controller
Limit unit
Crucible protective collar
Manual lid
Emergency floor drain with cover
Residual current device
Connection between furnace and switchboard in metal hose with plastic protector
Wall switchboard