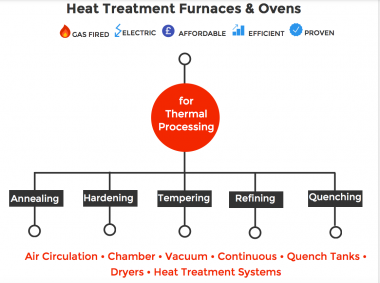 Ramsell-Naber supply and install industrial heat treating furnaces to suit a range of heat treatment processes and materials.
Annealing, Tempering and Hardening
Our Annealing furnaces provide ageing, hardening and tempering processes used extensively throughout the Foundry Industry in the manufacture of of aluminium and steel. We offer a range of furnace types to include:
Air circulation;
Top-loading;
Chamber;
Continuous;
Wire annealing;
Rotary;
Salt bath.
Degassing, Tempering and Curing Non-Ferrous Materials
Our range of gas fired and electrically heated industrial ovens and chamber dryers suit industries working with plastics, silicone and carbon composites that need heat treatment to achieve the correct product properties, such as adhesion or coating.
Quenching
We provide both customised and standard sized quench tanks, available to use with different quenching mediums: oil, water, polymer.
Heat Treatment Systems
We also design heat treatment systems that can be fully automated or manually operated for example, incorporating air circulation furnaces for annealing, water bath and conveyor.
Like to know more about equipment and prices? You can make a specific enquiry, or call +44 (0)1922 455521 or email for a more general discussion. We'll be happy to help.