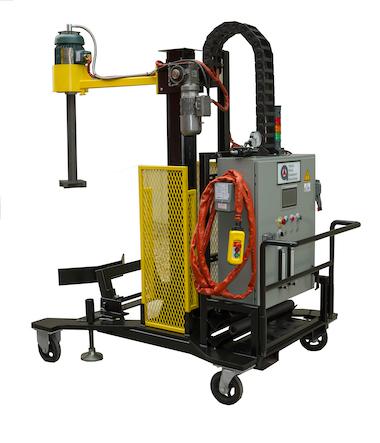 Rotary Degassing Systems from Molten Metal Equipment Innovations (MMEI) achieve better degassing results, in less time and at less cost.
MMEI offers a complete range of rotary degassing units featuring the latest advancements in technology to ensure repeatable results – faster:
Automatic ladle degassing stations
In-line units with single and multiple spinning rotors
Portable units
Mobile units for treating crucibles throughout the plant
Custom units for degassing over-the-road ladles and other large vessels
Units are available with easy to operate electric and gas controls. Timers, temperature sensors, digital readouts and other enhancements are incorporated into controls packages and are designed to be operator friendly. MMEI gas controls include separate flow meters for both the purge and main gas. Smaller, portable units are available with pneumatic controls.
Additionally, MMEI uses graphite components which are critical to successful metal treatment. The patented QUAD-Zilla™ rotor provides superior metal treatment by shearing the gas and pushing outward and drawing metal from bottom, eliminating untreated dead zones. This unique rotational movement is specific to the QUAD-Zilla™.