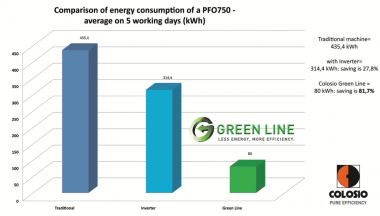 It is Ramsell-Naber's policy to offer energy efficient equipment so our partner for High Pressure Diecasting Machines, COLOSIO, fits in perfectly with their GREEN LINE MODEL RANGE.
COLOSIO'S GREEN LINE RANGE reduces energy consumption by using an innovative motor-pump grouping that consists of a variable speed synchronous motor controlled by a driver and an internal gear pump with constant displacement. By removing the proportional valves in the closing unit and controlling the oil flow with the servo-motor the machine is controlled in real time. Therefore, the position and speed of opening and closing (thanks to GREEN LINE) and the adjustment of the injection (thanks to the system COLOSIO REAL TIME), means the machine is fully controlled in a closed loop.
Noise reduction, lower energy requirments for hydraulic fluid cooling and the simplification of the hydraulic circuit are the other advantages of GREEN LINE technology.
This model of machine allows for energy savings of up to 80% and makes the working cycle even faster.
COLOSIO produce cutting-edge technology die casting machines, featuring superb reliability, a quick and effective after sales service and now a pumping system that strongly reduces the machine operating costs.
In summary:
Energy savings higher than 80%
Greatly reduced fluid cooling required
Reduction of noise levels
Simplification of the hydraulic circuit with removal of flow proportional valve and sequence valve
Increased speed of opening and closing
All the movements of the machine are controlled in closed loop