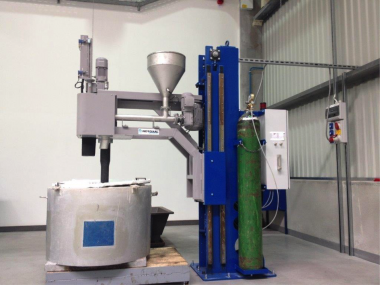 Founded in 1992, Aluminium Martigny France is a French company with an international reputation. Their specialization in the field of non-ferrous metals makes them a key partner for foundry operators and owners.
The business focuses on production and trading:
Design and production of foundry fluxes, die coats and lubricants for the treatment of non-ferrous metals. Aluminium Martigny France is the French leader in the manufacture of foundry products.
Development of its own range of machinery and equipment, which evolves according to customer needs.
Research & Development
Aluminium Martigny France has its own research laboratory where all manufactured products are designed and tested. It fully complies with the requirements of the ISO 9001.
Aluminium Martigny France is focused on developing new fluxes with two main considerations: first to develop fluxes with the lower content of Sodium and Calcium as possible and the more "ecological" or "environmentally friendly" product. This means that they manufacture fluxes without any  dangerous or hazardous raw materials, without any labelling related to the chemical registration, and allowing them to have low or no impact on the environment and safer for operators or users.
Their second aim is to create fluxes which can be used for several processes, either in non-ferrous foundries or for primary or secondary smelters. They make a multi-purpose flux which is not only a slagging-off flux but also a deoxidizing flux and a covering flux.
They are proud to announce that they can promote these brand-new fluxes on the market. For example the Elimoxal KF20 – treatment flux for the aluminium sector - can be used as a deslagging flux, a deoxidizing flux and a covering flux which allows foundries to have a single product whatever the process and stage(s) for metal treatment. Elimoxal KF20 is free from Sodium and Calcium, no labelling and with no fume emission. The absence of Sodium and Calcium is very important for automotive foundries which have critical castings very sensitive to defects due to Sodium and Calcium. Most of the automotive foundries have already tested and approved Elimoxal KF20 in Spain, Italy, France, Denmark and in many more countries all over the world.
The Elimoxal has also been developed specifically with a dedicated version in case of injection of the flux during the degassing step with a rotor. The development of Elimoxal KF20 was a starting point for Aluminium Martigny France in this field and we think that taking care of the environment, of foundrymen and to simplify and improve non-ferrous sector processes are more than essential and the way to success. They will go on adding to their range of fluxes and new products.
Aluminium Martigny France also offer a range of equipment for liquid aluminium treatment.
Rotoxal - Rotary Degassing
Hydralvac - Gas Level Monitoring
Sprayflux - Flux Spraying Equipment
The Aluminium Martigny France range of fluxes and equipment are stocked by Ramsell-Naber.